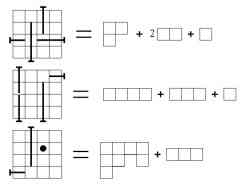 We know that every pattern can be categorized as win or loose. A first step in studying different patterns is to break the pattern into pieces that can't be connected with a rod. Rotations and reflections of a connected piece can be considered as equivalent. Translations can become non-equivalent,

and

are not the same. The simplest loosing position to give the opponent is

. Working backwards from this, other loosing patterns are found.


+

,

,

+

+

,

+

et cetera.